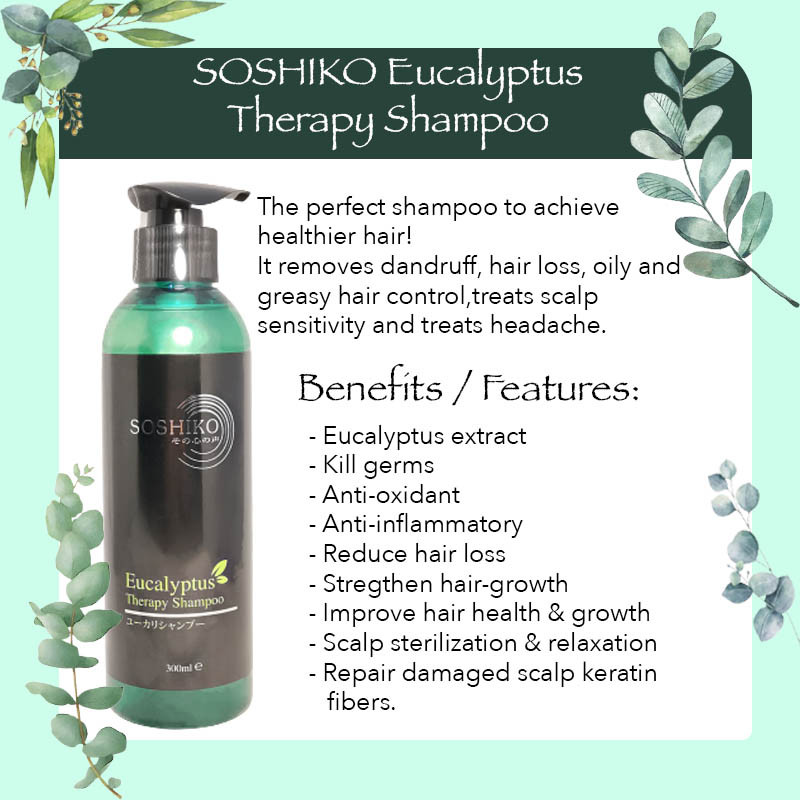 Soshiko Eucalyptus Therapy Shampoo 300ml
Eucalyptus Therapy Shampoo help balance sebum producton, improve the texture of thin hair, leaving hair healthier and stronger. Natural Eucalyptus Oil energizes the scalp and leave hair smelling great without usig any synthethic fragrance.
The perfect shampoo to achieve healthier hair! It removes dandruff, hair loss, oily and greasy hair control, treats scalp sensitivity and treats headache.
Benefits/Features:
- Eucalyptus extract
- Kill germs
- Anti-oxidant
- Anti-inflammatory
- Reduce hair-loss
- Strengthen hair-growth
- Improve hair health & growth
- Scalp strilization & relaxation
- Repair damaged scalp keratin fibers
完美的洗发水,让你的头发更加的健康!SOSHIKO的尤加利治疗洗发水能够帮助清爽的去除头皮屑,预防脱发,控油,以及专门治疗头疼风湿和头皮敏感!
好处/功效:
- 尤加利(桉树树)植物配方
- 抗菌
- 抗氧化剂
- 防止脱发
- 放松头皮
- 稳稳固发根
- 恢复头发弹性
- 促进进毛发生长
- 修复受损损头皮
- 缓缓解敏感头皮
Directions:
Gently massage on wet hair. Suitable for daily use. Use the Eucalyptus Therapy Mask with Eucalyptus Therapy Shampoo for better effects.
Ingredients:
Aqua, Sodium Laureth Sulfate,Cocamidoprpyl Belaine, Sodium Chloride, Disodium Cocoamphodiacetate, Eucalyptus Globulus Leaf Oil, Acetyl Tyrosine, Arctium Majus Root Extract, Argine, Biotion, menthol, Calcium, Panthothenate, Circuline, Glucosamine HCL, PEG-12 Dmethicone, Hydrolyzed Soy Protein, Niaciaminde, Omithine HCL, Oanax Ginseng Toot Extract, Zinc Gluconate, Polyquanternium-11, Butylene Glycol, PEG-1 Glycerel Cocoate, Dextran, Acetyl Tetrapeptide-3, Trifolium Pratense (clover) Flower Extract, Piroctone Olamine, Panthenol, Guar Hydroxypropyltrimanium Chloride, Citric Acid, Salicylic Acid, Tetrasodium EDTA, Methylchloroisothiazolinone, Methylisothiazolinone.
#shampoo #eucalyptus #soshiko #shower #hairwash #bath #therapy #therapyshampoo #natural